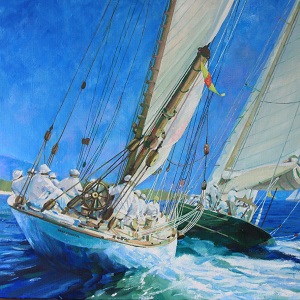 Undersail
John was both overawed and inspired by the America's Cup Jubilee in August 2001. Seeing the 'Round the Island' race from the deck of 'Provident' a Brixham Trawler.
"This event is now widely regarded as the greatest gathering of classic yachts since the 1930's Subsequently I have seen, photographed, drawn and painted many of those yachts off the shores of England and also in the Mediterranean. I always feel very excited by what are regarded as among the most beautiful boats in the World."
If you would like to know at which which gallery a picture can be seen - please contact me.
Measurements shown are in centimetres and represent the total picture area including frame.