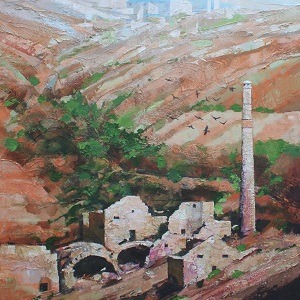 Surface Visions
Looking at the mining landscape of West Cornwall the surface remains have for the most part disappeared. What was built by man in the pursuance of mining can now only be seen in photographic evidence of the past. Only the monumental ruins of the engine houses survive to remind us.
My paintings and drawings inspired by Cornish Mining now span a fifty year period. I still have a few of my sketches from my days as an art student in Nottingham in the 1960's. At that time only recording surface visions. The depiction of Cornwall underground came much later.
The summation of recent years work was seen in 2018 when there were three exhibitions. Firstly, at the Geevor Tin Mine Gallery in Cornwall from March until October. Then in July at the World Heritage Centre in Durham. This exhibition coincided with the Durham Miner's Gala. It additionally contained new imagery of coal mining. Lastly, in November at the Granary Gallery at Weston Park in Shropshire. In 2019 the exhibition moved to the National Coal Mining Museum in South Yorkshire.