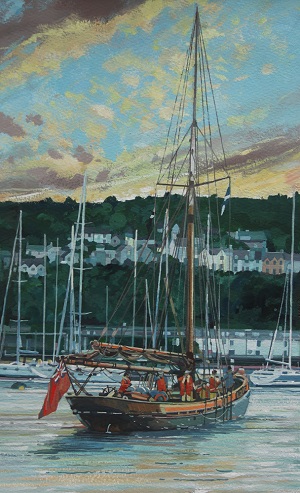 Towards Harbour
'For a ship with her sails furled on her squared yards and reflected from truck to water-line in a smooth gleaming sheet of landlocked harbour, seems, indeed, to a seaman's eye the most perfect picture of slumbering repose'.
The Mirror of the Sea Joseph Conrad.
Most of the ships in this page are not at sea. Or if they are moving it is very slowly. Entering harbour, going to moorings, moored or brought up to anchor. Showing the constant movement of the sea poses many problems. There are however different demands relating to calm waters including of course reflections.
If you would like to know at which which gallery a picture can be seen - please contact me.
Measurements shown are in centimetres and represent the total picture area including frame.